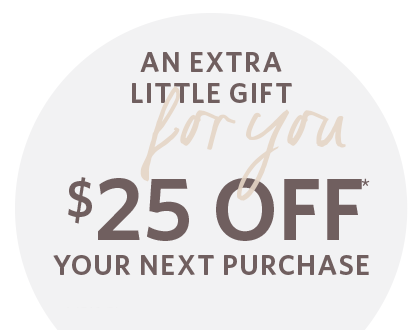 Enjoy $25 off* your next purchase when you join our mailing list.
Voucher can be redeemed from 25th December 2017.
Receive trends, offers and Emma & Roe news straight to your inbox.
Terms & conditions: *Receive a voucher to save $25 when you spend $99 by visiting emmaandroe.com.au/yourgift and joining our mailing list between 27 November 2017 and 22nd January 2018. The $25 voucher can be redeemed in any Emma & Roe Australian boutique from 25th December 2017 to 22nd January 2018. Vouchers are not redeemable as a deposit or to finalise special orders, on trade ups, on the purchase of Professional Care Plans. Cannot be redeemed for cash. Voucher cannot be used against a prior purchase or combined with any other offer or voucher. Vouchers do not contain any stored value and any portion is relinquished at the time of redemption. Voucher cannot be used as a deposit or layby or credit options. The voucher code contained in confirmation email must be presented at the time of redemption. One voucher per customer only. Single use only. Excludes clearance stores.