How to: Style Wild Hearts

Adding some rock to your roll has never been easier than with Emma & Roe's exclusive Wild Hearts Collection. A whole new way to express your unique style, this edgy collection is all about creating a look, not filling a bracelet. Read on to learn our stylist's secrets to making Wild Hearts work for you!
Remember: You're normal Emma & Roe charms won't fit on your Wild Hearts bracelet (except with our awesome adapter – more on that later) so you've got a clean slate.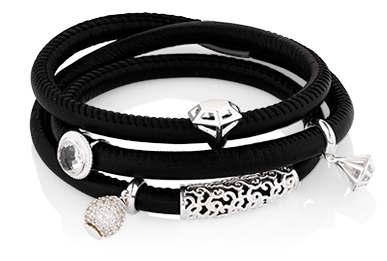 THE RIGHT FOUNDATIONS
If you're just starting out, there's a few essential items you're going to need:
First off, a bracelet. Our thick leather wrap bracelets come in a range of staple & seasonal colours, and are available in 4 different styling lengths. Choose your favourite and let's get started!
Next, add an all new sleeve charm as the focal point of your look. We've got four sterling silver designs to choose from.
Mix in at least two button charms and two dangles to finish off your foundation. We've got stacks of strong, confident shapes to rock your world – so choose whatever speaks to you.
ADDED ATTITUDE
Once you've got your initial look down-pat, you can keep adding when inspiration strikes. Experiment with adding and interchanging different pieces so you can update your bracelet as often as you like. And if you're looking to create something truly unique, try our Wild Hearts adapter dangle which lets you add any charm from the Emma & Roe range.
LAYERED LOOK
Link Bracelets together to create a longer look which you can style to suit you. Intertwine it with a second bracelet, or let it lace up your arm for more room to style. The bracelet links together by magnetic stainless steel clasp, which is secure and strong for long wearing durability, yet easy to take on and off.
One Wild Hearts bracelet is good, but multiple Wild Hearts bracelets are better. This collection is crying out to be stacked! Layer a few bracelets together for a bigger, bolder "I'm with the band" look!