Arm Yourself: Choosing Your Bracelet

Everyone knows that starting a charm collection means choosing a bracelet. But which one?

With so many options, it can be hard to settle on just one. Even if you're planning on creating multiple looks (which, by the way, you should totally be doing), everyone needs a place to start.

So with that in mind, here's a roundup of our bracelet styles, plus some styling tips to get you going!
Sterling Silver

A favourite among charm-lovers everywhere, a sterling silver bracelet (or bangle!) is an affordable and versatile option. In fact, our most popular bracelet is our
sterling silver snake chain with classic barrel clasp
. A silver bracelet will arguably offer the greatest versatility, with the vast majority of our coloured Murano glass and cubic zirconia pieces set in sterling silver. That's not to say you should steer clear of gold – a smattering of gold spacers or two-tone charms will add a touch of stylish luxury!
SHOP STERLING SILVER BRACELETS & BANGLES >

A bracelet in 10ct gold (especially our
diamond set design
) will help you create a look of true luxury. With a wide range of plain gold and diamond set charms on offer, plus our opulent Marrakesh collection, the end result will be a bespoke piece – worthy of passing down for generations.
SHOP 10CT GOLD BRACELETS >
Duality

The best of both worlds, a bracelet combining sterling silver and 10ct gold offers a touch of everyday luxury. Available in 10ct rose or yellow gold options, they're the perfect setting for an eye-catching two-tone design.
SHOP TWO-TONE BRACELETS >
If you're looking to build your bracelet around your favourite trending colour, our woven leather designs are perfect! Available in hand-picked colours like black, blue, orange, purple and red, your unique creation will add an effortless splash of colour to your outfit.
If it's the layered look you want, we've got you covered with double and triple wrap designs made for just that purpose.
SHOP LEATHER BRACELETS >
Wild Hearts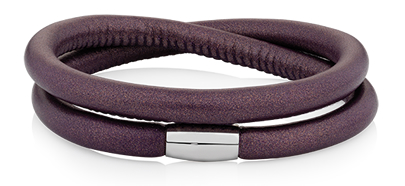 Add some rock to your roll and choose to start a Wild Hearts collection with one of our 6mm 100% Napa leather bracelets. The edgy collection features bracelets in black, slate and berry, and will give any outfit a touch of attitude.
But remember, these thicker bracelets won't fit your regular charms! Perfect excuse to treat yourself, right?
SHOP LEATHER BRACELETS >